The Hotel Restaurant Locanda "La Campana d'Oro" offers five double rooms and one suite all beautifully appointed and furnished with fine antique pieces individually chosen by the owners. Each room is equipped with all the modern comforts to provide a personal and intimate getaway in addition to enjoying the natural tranquility offered by the town of Corvara di Beverino.
Corvara di Beverino is a small town far from traffic noise and the hustle and bustle of city living. It is immersed in natural bush surroundings of Val di Vara at the border of Pignone, Bracelli and the Cinque Terre, yet offers numerous activities and modern services.
Each room has its own bathroom facilities, safe, phone, LCD television and WIFI broadband internet connection. We have AIR CONDITIONING in all rooms.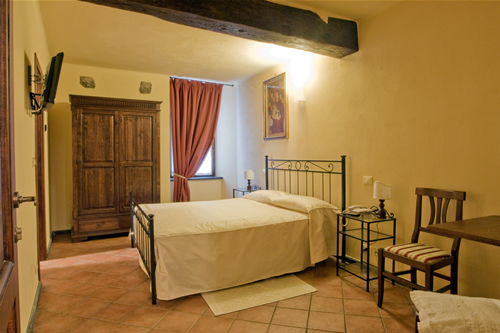 Hotel Ristorante Locanda "La Campana d'Oro"
Via Cafaggio,1 - 19020 Corvara di Beverino -Val di Vara -La Spezia - ITALY
email:info@campanadoro.it Phone/Fax +390187887648
P .IVA 01204450116